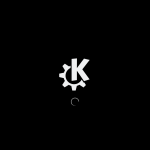 After a summer hiatus during which I only released new packages for KDE Frameworks because they addressed a serious security hole, I am now back in business and just released KDE-5_19.09 for Slackware-current.
The packages for KDE-5_19.09 are available for download from my 'ktown' repository. As always, these packages are meant to be installed on a full installation of Slackware-current which has had its KDE4 removed first. These packages will not work on Slackware 14.2. On my laptop with slackware64-current, this new release of Plasma5 runs smooth.
What's new in the September 2019 release
This month's KDE Plasma5 for Slackware contains the KDE Frameworks 5.62.0, Plasma 5.16.5 and Applications 19.08.1. All this on top of Qt 5.13.1.
Deps:
The 'qt5' and 'qt5-speech' packages have been updated to 5.13.1, 'PyQt5' was updated to 5.13.0 and there's a new official 'polkit-qt5-1' version too: 0.113.0.
The 'cryfs' package was updated to 0.10.2 (the previous version stopped working anyway, after Slackware's boost upgrade).
The updates to the phonon layer are accompanied by a removal of Qt4 support – phonon is now Qt5-only. Package updates are 'phonon' 4.11.0, 'phonon-gstreamer' 4.10.0, 'phonon-vlc' 0.11.0.
The telepathy deps have two updates: 'libsignon-glib' and 'telepathy-acccounts-signon'. Tell me if you actually use KDE Telepathy! I think it is a heroic but doomed effort to create a voice & video capable IM framework for KDE – it does not work for me and never worked properly for me. I am thinking of completely removing it from my 'ktown' package set. Share your thoughts.
Frameworks:
Frameworks 5.62.0 is a regular update release. See: https://www.kde.org/announcements/kde-frameworks-5.62.0.php
Plasma:
Plasma 5.16.5 is the last bug-fix release in the 5.16 cycle, meant to increase the stability of the Desktop part of KDE. See https://www.kde.org/announcements/plasma-5.16.5.php.
Note that the 'breeze' and 'oxygen' themes in this release of Plasma have removed their support for Qt4 (finally) which means if you still use Qt4/kdelibs based applications, they could start looking weird now. Let me know if I should add a compatibility package containing older breeze/oxygen theme libraries.
Plasma-extra;
I updated 'kdeconnect-framework', 'latte-dock' and 'wacomtablet'.
Applications;
Applications 19.08.1 is a stability and bug-fix update for the 19.08 cycle.
Note that due to the summer holidays, I never released the .0 release of this new 19.08 series. For more information, see https://www.kde.org/announcements/announce-applications-19.08.1.php and in particular the release notes for 19.08.0 are full of relevant info.
Applications-extra:
I upgraded 'krita', 'krusader' and 'kstars' to their latest releases.
Where to get it
Download the KDE-5_19.09 from the usual location at https://slackware.nl/alien-kde/current/latest/ . Check out the README file in the root of the repository for detailed installation or upgrade instructions.
Development of Plasma5 is tracked in git: https://git.slackware.nl/ktown/ .
A new Plasma5 Live ISO has been uploaded and you will find it at https://slackware.nl/slackware-live/latest/ (rsync://slackware.nl/mirrors/slackware-live/latest/)
Have fun! Eric