The Document Foundation announced version 6.1.2 of their office suite last week. Today, new LibreOffice packages for Slackware 14.2 and -current are done compiling and available in my repository.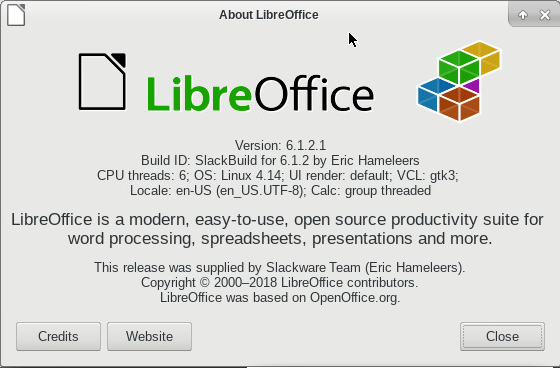 Get the packages from my repository or any mirror, like:
I also updated the VeraCrypt package to version 1.23, and you'll find one for Slackware 14.2 as well as -current. Next on the list to update are: handbrake, ffmpeg, mkvtoolnix and probably others that I have neglected. All of these will become available shortly for 14.2 and -current. Fans of Plasma5 will have to wait a bit… Plasma 5.14 is just around the corner but I may wait until 5.14.1.
Have a good weekend, Eric