Yesterday I uploaded new ISO images for the Slackware Live Edition. They are based on the liveslak scripts version 0.8.0 (beta 8). This version of Slackware Live Edition is using Slackware64-current dated "Fri Apr 15 20:37:37 UTC 2016" as the base. Indeed, that is Slackware 14.2 Release Candidate 2, we are getting nearer a stable release.
For background info on my project "Slackware Live Edition" please read the previous articles.
I created an ISO for the following Live OS variants:
What's new in 0.8.0?
The ISO images I mentioned above are all 64bit. This time, to humor the complainer on LQ who felt insulted because I was neglecting 32bit Slackware users, I have added a 32bit version of the SLACKWARE variant too.
New functionality of the Live OS:
Download the ISO images
As stated above, you can choose between several variants of Slackware Live Edition. There's ISO images for the SLACKWARE, XFCE, PLASMA5 and MATE flavours using the latest Slackware-current packages available (Fri Apr 15 20:37:37 UTC 2016) as well as the latest Plasma 5 release  which I yet have to upload to 'ktown' (Frameworks 5.21.0, Plasma 5.6.3 and Applications 16.04.0 on top of Qt5 5.6.0). And Mate was updated to 1.14.
Download locations for the ISO images plus their MD5 checksum and GPG signature should be available soon at any of the following locations – look in the "0.8.0" subdirectory for ISOs based on the liveslak-0.8.0 scripts. I made a symlink called "latest" which will always point to the latest set of ISO images.
Good to know when you boot the ISO
The Slackware Live Edition comes with two user accounts: user 'root' (with password 'root') and user 'live' (with password 'live'). My advice: login as user live and use "su" or "sudo" to get root access.
Note: the "su" and "sudo" commands will ask for the 'live' user's password!
Consult the documentation for assistance with the various boot parameters you can use to tailor the Live OS to your needs.
Slackware Live Edition is able to boot both on BIOS-based computers (where syslinux takes care of the boot menu) and UEFI systems (where grub builds the boot menu, which looks quite similar to the syslinux menu):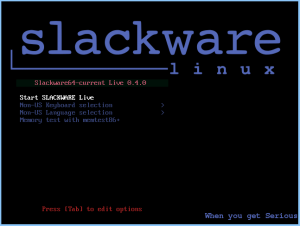 I will soon update the original blog article (http://alien.slackbook.org/blog/slackware-live-edition/) because that is what most sites are linking to. The information in there is not reflecting the liveslak's current capabilities and may present the wrong picture. I will save the original article under a different name.
Spinoffs
Have fun! Eric