The new major release '6' of LibreOffice was made available almost two weeks ago but I have been struggling with the 32bit build. Despite the fact that my 64bit -current packages for libreoffice-6.0.0 were online for a short while (almost nobody noticed), I did not have anything good to share so I removed those again.
And in the meantime, faster than scheduled because of some serious regressions and a security report, I noticed the release of version 6.0.1 two days ago. I had been busy with new Plasma5, VLC and GCC packages but with those out of the way I set myself again to the task of fixing the 32bit build. And I nailed it, so now I can finally announce packages for Slackware 14.2 and -current.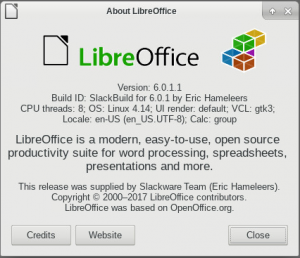 There's a lot to write about what has been improved or added to LibreOffice 6, the release page names quite a few already and here is a selection of features that I found striking:
modernized look & feel of the user interface
gpg-based document signing & encryption, yay!
export to epub
better unicode font coverage by including a selection of noto fonts
improved spell-checker and custom dictionaries
improved help system
interactive form creation through a new 'form' menu in writer
impress templates are re-designed into 16:9 format
etc…
The Document Foundation has also recorded a video summarizing the best new features of LibreOffice 6. i invite you to take a look at it.
You can get the new libreoffice-6.0.1 packages from my repository or any mirror, like:
I have also added this release of LibreOffice to my just-uploaded PLASMA5 Live ISO which is based on Plasma 5.12 LTS.