My christmas break has started! So there is finally time to finish some of the stuff that had been piling up. First thing to release is the new version of LibreOffice 5, because it is so fresh. Release 5.0.4 was announced yesterday on the Document Foundation blog. My virtual server I rent from HostUS gives me so much better speeds than my build server at home for RAM-hungry compilations like LibreOffice… I built my new packages in a third of the time it usually takes me. Plus, the server at home was free to work on Slackware Live Edition… more about that soon, in another post.
The Document Foundation statement about this release: "LibreOffice 5.0.4 is ready for enterprise level or large scale deployments, when backed by professional level 3 support from certified developers"
The new LibreOffice 5.0.4 packages have again been compiled for users of Slackware-current only. I will soon find time to compile the latest LibreOffice 4 (to be precise: 4.4.7) for Slackware 14.1.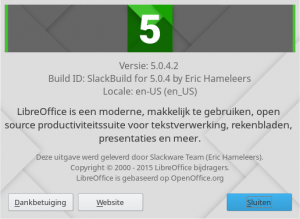 Get your packages from any of these sites (if you have a fast, uptodate and reliable mirror outside the US or UK I'd like to hear from you):
Cheers! Eric