LinuxQuestions.org Members Choice Awards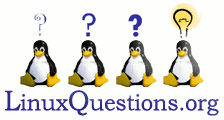 Fellow Slackers and other friends!
It's that time of the year again where Jeremy calls upon the masses to enter the poll for the 2013 LinuxQuestions.org Members Choice Awards. Remember last year, when Slackware made it to Desktop Distro of 2012 and was beaten to a hair-width by Debian for Server Distro of the year?
Please have a look at this year's poll, it's full of interesting choices. And make a honest selection! I don't really care if Slackware ends up on top, it is more important that you experience that moment of realization that there is a wealth of Open Source Software out there which allows us to succeed in doing the things we like most. Freedom of choice usually comes at a high price, but Open Source Software & Standards allow you to make your choices for free and in freedom.
Please, take a moment to consider if there are ways for you to contribute back – it does not have to cost you money out of your pocket. If you are poor or can't spare the money, your give-back can still be trememdously valuable. For instance, by helping friends with their adoption of Open Source, or by writing down your knowledge so that others can in turn advance their own knowledge; maybe you could check at your children's school to see if there is room for a "Linux college" of sorts or prepare a hack-fest where everyone brings their computer and you bring a bunch of Slackware install CD's 😉 Or perhaps this is the perfect time to start coding on some cool program so that we can forget about SystemD!
Realize that the Open Source (and Open Standards) ecosystem is about respect, sharing, growth and advancement. You and I, we are both part of this ecosystem. By working together without artificial boundaries or constraints and treating each other as equals, we can try to make this world a better place for all.
It's like the spirit of Christmas which your Granny keeps talking about, but then without the turkey and the tree.
Happy polling! Happy holidays! Eric