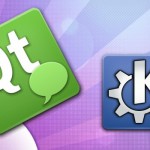 Remember when everybody was so excited that the KDE developers abandoned their "monolithic" release schedule where all the software was stamped with the same version number and released as a "Software Compilation"…
There have been a number of releases for the KDE Frameworks 5 and Plasma 5 (which depend on the Frameworks) in decoupled release schedules. To me it is clear  that the developers are not (yet) ready for this. Their workflows appear to be such that they write code which depends on other modules' code which only exists in a Git repository. With the old "Software Compilation" that was never an issue since all these sources would be released simultaneously. Nowadays we are facing independent release schedules and what is the (expected) result? Software starts breaking down because not all of the git code is being released at the time when the dependent code gets released.
Therefore I refuse to build and release Slackware packages for the latest/pending "KDE 5" software set, consisting of Frameworks 5.3.0 (in part 5.3.1 now, apparently) and Plasma 5.1.0. It is a freaking mess with updates, reverts and apologies all abound on the mailinglists. Get your act together! In emergency and disaster responce training, you'll learn that it's all about communication. IT is no different in software development. In the "bazaar" model, it is still required of people to coordinate the joint effort or else you'll end up with a pile of loose sand instead of something solid and useful. Coordination is communication during, not after the events.
Knowing the KDE community, the future releases of the KDE 5 components will gradually reach mature levels again.
And hey! There still is the good old KDE4. A set of Slackware packages for KDE 4.14.2 is ready for you to download and install as of now. The source release was made public  earlier today. As expected from KDE4, it is all about bugfixes and stability enhancements.
None of the dependencies I maintain for KDE 4 had to be upgraded in comparison with my previous release of KDE 4.14.1 packages. KDE 4.14.2 bundles the sources of kactivities-4.13.3 (taken from the KDE 4.13 major release) because no new tarball is being made available. For kde-workspace, an update to 4.11.13 was provided by the developers. I promise that I will have gstreamer-1 packages done for the KDE 4.14.3 release and build artikulate (fingers crossed)!
How to upgrade to KDE 4.14.2 ?
You will find all the installation/upgrade instructions that you need in the accompanying README file. That README also contains basic information for KDE recompilation using the provided SlackBuild script.
You are strongly advised to read and follow these installation/upgrade instructions! Note that this is only useful for you if you are running slackware-current, i.e. our development version. If you are running SLackware 14.1 then there's still a fairly recent KDE 4.13.3 for you.
Where to find Slackware packages for KDE ?
Download locations are listed below.
You will find the KDE 4.14.2 sources in ./source/4.14.2/ and packages in /current/4.14.2/ subdirectories.
Note that I have symlinks in place (useful for users of a package manager and running slackware-current) so that ./current/latest/ will always point to the latest stable KDE release, and ./current/testing/ will always point to the most recent testing release (currently that's Frameworks 5 and Plasma 5). Let's hope there will be something fresh in that "testing" area soon.
Using a mirror is preferred because you get more bandwidth from a mirror and it's friendlier to the owners of the master server!
Have fun! Eric