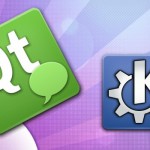 I updated my ktown repository today with KDE 4.14.3 packages for Slackware 14.1. Yes that's right, 14.1. I had promised in my previous post that I would come up with these packages after Slackware-current had been officially upgraded to KDE 4.14.3 but I was sitting on these packages and thought, what the heck. So here you have them.
The set has been spiced up with the latest Long Term Support (LTS) sources that I took from KDE Applications 14.12.3, specifically the newest versions of kde-workspace, kdelibs and kdepim. Essentially, I have used the exact same sources from which I built my KDE 4.14.3 packages for Slackware-current before.
Note that there are new packages, upgraded packages and to-be-removed packages here. Some people forget to install the new packages (in particular the new dependencies) and end up with a broken system. As usual, the README file which accompanies this release contains the detailed installation and upgrade instructions. Read these instructions carefully and your upgrade on Slackware 14.1 from either the stock KDE 4.10.5 or my own 4.13.3 will be easy and painless.
My previous article on KDE 4.14.3 plus LTS (at that time, targeting slackware-current) contains more information that you might want to read.
These are the servers that are guaranteed to have the packages right now (in 24 hours the other mirrors will likely have synced as well):
Have fun! Eric