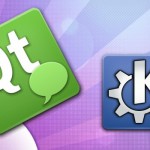 Some folks asked whether the new KDE4-based packages in my KDE5 repository would also apply to KDE 4.14.3. The answer: no they probably won't, so you better not try what happens.
The updated sources that appeared with regular intervals were all part of KDE Applications, and for the past months I only focused on using those for my KDE5 repository. I did not want to forget users of KDE4 however.
Therefore I refreshed my KDE 4.14.3 repository today (packages for Slackware-current, not for 14.1) with the latest Long Term Support (LTS) sources that I took from KDE Applications 14.12.3.
KDE 4.14.3 was the last release of KDE4. It came with a promise that the developers would provide Long Term Support for this particular release.  Which is why I finally took the new sources for kdelibs, kde-workspace, kdepimlibs, kdepim and kdepim-runtime and built these on top of Slackware 4.14.3. These updated packages are available for you as per direct. As a bonus, they are accompanied by the latest Calligra office suite. There are also a couple of changes in the "deps" directory for KDE 4.14.3. You will find two all-new packages: librevenge and libodfgen, and two updates for stock Slackware packages: grantlee and libwpd. The kdepim package needed a newer grantlee, and the other three are required by the new calligra package.
Users of slackpkg+ have it easy:
# slackpkg update
# slackpkg upgrade-all
# slackpkg install deps
The moment KDE 4.14.3 gets officially added to Slackware-current, I will rebuild all of KDE 4.14.3 for Slackware 14.1 so that people with a taste for stability will have something new to chew on too.
Something funny: when I sat down to write this article, I went searching for my initial announcement on the blog of KDE 4.14.3 packages (released on 11 Nov 2014.). To my amazement, there is no such article! It seems I forgot to write a blog post about KDE 4.14.3 back in November… probably had too much to do at the time, but I can not remember. Apologies for that… I hope you have noticed that there were new packages nevertheless 😉
Have fun! Eric