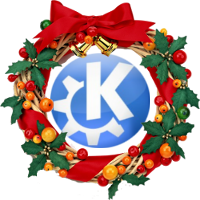 I uploaded KDE-5_19.12 as an early Christmas present. You can download these fresh packages as usual from my 'ktown' repository. Still targeting a full installation of Slackware-current (with KDE4 removed first) these packages will not work on Slackware 14.2.
What's new in the December 2019 release
This month's KDE Plasma5 for Slackware contains the KDE Frameworks 5.65.0, Plasma 5.17.3 and Applications 19.12.0. All this on top of Qt 5.13.2. Do not forget to install the new packages md4c, kquickcharts, pulseaudio-qt, kpeoplevcard, and elisa !
Deps:
This month I removed the qt-gstreamer package because the only package which depended on it (telepathy-kde-call-ui) has been removed a few months back with the rest of KDE Telepathy.
I added md4c, which is a dependency for Qt 5.14 but then decided against updating my qt5 package to 5.14 because there's a lot of software which is not completely ready for this new release of Qt. Maybe next month.
I updated the lensfun and  mlt packages to their latest releases and updated sip so that it matches the version in Slackware again.
Frameworks:
Frameworks 5.65.0 is an incremental stability release, see: https://www.kde.org/announcements/kde-frameworks-5.65.0.php but the developers added a new Framework this time: kquickcharts.
Plasma:
Plasma 5.17.3 is a an incremental bug-fix release in the 5.17 cycle of the KDE desktop environment. See https://www.kde.org/announcements/plasma-5.17.3.php
Plasma-extra;
In plasma-extra I updated latte-dock and kdeconnect-framework. The new release of kdeconnect required the addition of two new dependencies to plasma-extra: pulseaudio-qt and kpeoplevcard.
Applications;
The Releases 19.12.0 is the start of a new quarterly release cycle for the Applications, but it is also a rebranding. The old name "Applications" was no longer considered representative for what it offers and "Release Service" is the new name. I will probably keep calling this "Applications" nevertheless, tired as i usually get from overzealous PR folk.
Note that there's a new application in here, the music player 'elisa'. I did not compile elisa against VLC even though that would make it more powerful. If I had installed a vlc package and compiled elisa against it, then the elisa program would fail to run for people that do do not have VLC installed. Feel free to recompile though!
For more info, see https://www.kde.org/announcements/releases/19.12/
Applications-extra:
In applications-extra I updated calligraplan, kstars and krita to their latest releases. In particular this Plan (calligraplan) release is seen as a major milestone achievement.
Telepathy:
Note: KDE Telepathy is no longer part of my 'ktown' distribution of KDE Plasma5.
Where to get it
Download the KDE-5_19.12 from the usual location at https://slackware.nl/alien-kde/current/latest/ or one of its mirrors like http://slackware.uk/people/alien-kde/current/latest/ (both these sites are also offering rsync access). Check out the README file in the root of the repository for detailed installation or upgrade instructions.
Development of Plasma5 is tracked in git: https://git.slackware.nl/ktown/ .
A new Plasma5 Live ISO should be ready somewhere later during my Christmas holiday (probably after Christmas) and then you will find it at https://slackware.nl/slackware-live/latest/ (rsync://slackware.nl/mirrors/slackware-live/latest/)
Have fun! Eric