Baking with sourdough has its consequences. You have to fit it into your work and life schedule – the fermentation/rising/proofing times are so much longer than when using  commercial fast-action yeast! You have to plan for a 9-hour time span from start mixing to pulling the baked bread out of the oven. Baking after-work is out of the question, so the weekends remain unless I want to get up very early or stay awake all night… not a long-term viable option.
In order to find a way that allows for work during the day, and baking sourdough bread at night, I changed this routine. I did the "bulk fermentation" (the first rise after kneading the dough into a ball) in the fridge at 4 degrees centigrade instead of at room temperature, and it turned out to be a success!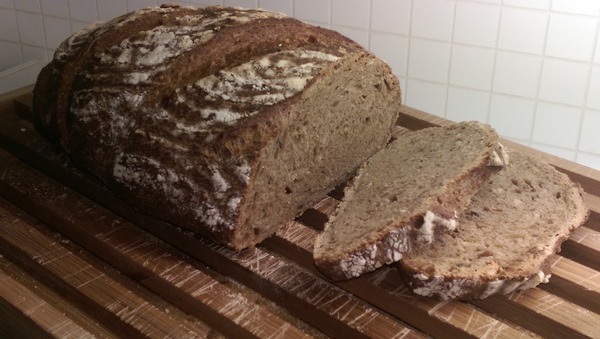 Fermentation is actually a better name for the process of rising – the yeast consumes sugars and produces alcohol and CO2. The bacteria in the sourdough not only produce lactic and acetic acids but also develop the flavours in the dough. The longer you ferment the dough, the more flavour it gets! Chances are that your bread will become somewhat more sour as well, but I found no evidence of that in my breads.
That is why fermentation in the fridge is not a bad idea at all. The yeast's metabolic rate is of course a lot lower in the fridge compared to room temperature, therefore the dough can be left alone for much longer when it sits in your fridge. That extra resting time enables me to divide the baking process up. I kept the dough in my fridge for 22 hours (!) and then took it out to warm up to kitchen temperature for two hours.
Ingredients:
100 gr sourdough starter (100% hydration meaning it consists of 50 gr AP flour and 50 gr water)
250 gr cold water
50 gr  AP flour
100 gr whole wheat
300 gr Waldkorn mix (a trademarked dutch multi-grain mix)
25 gr olive oil
7 gr salt

After the 8 o'clock news, I mixed the ingredients to incorporate all the moisture, and hand-kneaded it for 10 minutes (I love hand-kneading… never use a machine).
I then placed the ball of dough in an oiled bowl covered with cling film. That went into the fridge for 22 hours.
Next evening, I took it out of the fridge and left to acclimatize in the kitchen for 2 hours. Then I flattened the dough gently, and shaped it and put it in a flour-dusted proofing basket (a birthday present from my wife), and left it there (covered with cling film) for another 2 hours at room temperature.
I turned the risen dough over onto a baking tray covered with a silicone mat (ideal material for baking a bread, it does not stick), slashed the top and baked for 45 minutes (first 20 minutes at 235 degrees C with steam in the oven, then 25 minutes at 220 degrees C without steam).

The taste of the bread is great! it has complex and subtle flavours and, only the slightest hint of sourness despite the long fermentation time. The typical nutty-sweer flavour of the Waldkorn bread mix is altered by the sourdough's own flavouring process. My son was not yet sure if he likes this better than the version I usually bake – using fast-action yeast instead of sourdough. Certainly, this sourdough bread is a lot smaller in size… which I like better than the "fluffiness" of the bread baked with commercial yeast.

It's a win/win: the long fermentation time results in great flavour, and I can now bake sourdough at every day of the week if I want to 🙂