Progressing with KDE 4.7.0
Quick teaser… I am progrressing well with my modular KDE SlackBuild script as you can see if you examine the screenshot closely.
I am currently rebuilding the 32-bit package-set to verify that everything can be built in one command and without further interaction. I am running the 64-bit version of KDE 4.7.0 on this laptop while I am posting the article, and the package count has gone up to 75… which includes 6 packages of "extragear", where kplayer is a new package to provide us with a decent KDE front-end to mplayer. All is looking good so far! I hope to get these packages out in time for the Slackers who will be attending the Desktop Summit in Berlin, next weekend.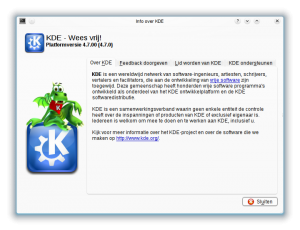 Cheers, Eric
Posted: 1 August, 2011 in Slackware, Software.
Tags: kde47, modular
Comments
Write a comment