Sometimes you just need to take action.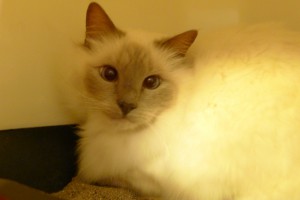 We have two new cats in the house. More than four months after our last cat died at a respectable age of almost 19 years, the family decided that the house was too empty and cats had to be part of our life.
Our options were: getting two kittens from the animal shelter; or obtaining older cats from people who could no longer keep theirs.

Eventually, we found two half-brothers, Holy Birmans just like the two we have had for such a long time.
What a difference between our slender girls of old, and these two massive males!
They will have to socialize for a couple of weeks, getting used to their new home after having lived with their original owners for 8 years. One of the two (Levi) has made the mental switch already. He purrs, eats and drinks, and comes to us for attention. The other one (the dominant male, Shinzo) is still hiding beneath the couch or behind the curtains, refuses to eat and drink (at least as far as we can observe… at night he does probably eat). Or else he hides on a window sill where he is meowing at the chickens outside, and all the birds visiting our bird-food station. But I fear that we will never see him back if he escapes to the garden. It will take time to let him get used to the new house and the new humans. He is a shrewd cat though… my son left the livingroom door to the rest of the house open for only a short while and the cat took that opportunity to disappear into the house. It took us nearly an hour to locate him and draw him out of hiding… in the attic below a pile of furniture parts.
They are adorable though, and sweet. All will be fine in the end.