When looking for package updates in preparation for a new Slackware Live PLASMA5 edition, I noticed that the Document Foundation had released LibreOffice 5.3.4 without updating their blog with the news – it's only mentioned on the download page.
I have built and uploaded Slackware-current packages for libreoffice-5.3.4. If you are on Slackware 14.2 you will probably have to skip this one, as I will not have time for compiling packages the coming weeks (allocates one virtual machine for one day per build, since I can only check on progress in the evenings).
The package for -current needed to be (re-)built anyway because of the library issue with Slackware's updated libGLEW which prevented Impress to start.
Check out the LO releasenotes if you want:  https://wiki.documentfoundation.org/ReleaseNotes/5.3.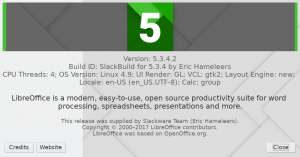 The libreoffice packages for Slackware can be downloaded from a mirror like this one: http://bear.alienbase.nl/mirrors/people/alien/slackbuilds/libreoffice/.
Have fun! Eric