Two weeks ago, a new version of LibreOffice 5 became available. On their blog the Document Foundation mentioned that apart from version 5.0.3 there has been a (final?) release in the 4.x series: 4.4.6 sources were made available as well. I will find time to compile 4.4.6 for Slackware 14.1 soon, since there are security fixes too, but there were more pressing matters to attend to, and therefore I limited myself to the new 5.x release for the moment.
This is what the Document Foundation wrote about the two versions: "LibreOffice 5.0.3 is more feature-rich, and as such is targeted to tech enthusiasts and power users, and LibreOffice 4.4.6 is targeted to more conservative users and enterprise deployments as it has been in widespread use for a longer time, and as such offers a better experience for document production"
The new LibreOffice 5.0.3 packages have been compiled for users of Slackware-current only. The 4.4.5 packages that I have for Slackware 14.1 should also work on -current, but I have not tested that. I hope that this package for LibreOffice 5.0.3 survives the day… Pat is planning another (possibly intrusive) update to slackware-current which may break the package.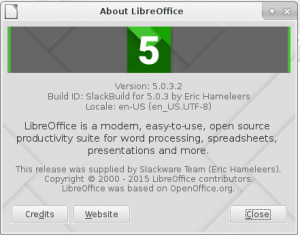 The package was yet again compiled against gstreamer-1.x, so I would like to hear if the issues that were reported about embedded multimedia files are still there.


Then there was a new release of Valve's steamclient. The changes are minor – adding udev support for new controllers. And anyway, your Steam run-time gets updated automatically anyway when you go online. The package is useful when installing the Slackware OS from scratch so I provide the updated package in my repository. Remember people, there is a Slackware community on Steam too! And no, I do not want to hear the moaning about a closed-source platform. Valve does more for Open Source and Linux in general than many other game companies.
Get your packages from any of these sites (there are probably more mirrors than these but I am unaware of them):
Cheers! Eric