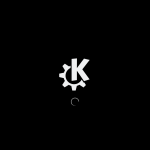 Sometimes, stuff just works without getting into kinks. That's how I would like to describe the June release of Plasma5 for Slackware, KDE-5_19.06.
I built new Plasma5 packages in less than two days. I did not run into build issues, there was no need for a bug hunt. The Ryzen compiled and compiled, and then the power went out in the building today… but still, moments ago I uploaded KDE-5_19.06 to my 'ktown' repository. As always, these packages are meant to be installed on a full installation of Slackware-current which has had its KDE4 removed first. These packages will not work on Slackware 14.2.
What's new in this June 2019 release
This month's KDE Plasma5 for Slackware contains the KDE Frameworks 5.59.0, Plasma 5.16.0 and Applications 19.04.2. All this on top of Qt 5.12.3.
Deps:
I needed to add one new package here,  'quazip', which was required by the latest version of Krita.
Frameworks:
Frameworks 5.59.0 is an incremental stability release, see: https://www.kde.org/announcements/kde-frameworks-5.59.0.php
Plasma:
Plasma 5.16.0 is the start of a new development cycle for the Desktop part of KDE. See https://www.kde.org/announcements/plasma-5.16.0.php. In creating the 5.16 release, the focus has been to make Plasma smoother, as well as more intuitive and consistent to use.
A few highlights: the Networks widget is now faster and more reliable to refresh Wi-Fi networks; the Desktop notification system has been completely rewritten; and there's initial support for using Wayland with proprietary Nvidia drivers.
Once I upgrade the Qt5 package to 5.13 (not released yet) I want to create a new 'testing' repository focusing on Wayland support.
Applications;
Applications 19.04.2 is a stability and bugfix update for the 19.04 cycle. See https://www.kde.org/announcements/announce-applications-19.04.2.php.
Applications-extra:
I upgraded 'krita' and 'kstars' to their latest releases.
Where to get it
Download the KDE-5_19.06 from the usual location at https://slackware.nl/alien-kde/current/latest/ . Check out the README file in the root of the repository for detailed installation or upgrade instructions.
A new ISO of the Slackware Live Plasma5 Edition should be available in a couple of hours (all the ISOs there are based on liveslak-1.3.2.2 and slackware-current dated "Wed Jun 12 02:51:04 UTC 2019").
You will find the ISO at https://slackware.nl/slackware-live/latest/
Have fun! Eric