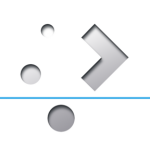 Slackware turned 24 today, 17 July.
To celebrate I have created some goodies for you. Nothing you can eat or drink…
First, Plasma 5 updates.
I have uploaded the July '17 set of Plasma 5 packages for Slackware 14.2 and -current to the 'ktown' repository. KDE 5_17.07 contains: KDE Frameworks 5.36.0, Plasma 5.10.3 and Applications 17.04.3. All based on Qt 5.9.0 for Slackware-current and Qt 5.7.1 for Slackware 14.2.
NOTE: I will no longer be releasing Plasma 5 packages for 32bit Slackware 14.2.
What's new this time
Apart from the usual upgrades to the Frameworks, Plasma and Applications subsets, there is only one interesting piece of news: I added 'kile' to the applications-extra directory. Kile is a LaTex editor and the port to the KDE Frameworks 5 is well underway. I based the package on a git snapshot of its repository. One more KF5 application in "applications-extra".
The goal of the KDE community is that the Applications 17.12 release (i.e. end of this year) will not have any application that is still kdelibs4 based. Everything in Plasma 5 Desktop should then finally be based on KF5.
Installing or upgrading Frameworks 5, Plasma 5 and Applications
As always, the accompanying README file contains full installation & upgrade instructions.
Recommended reading material
There have been several posts now about KDE 5 for Slackware-current. All of them contain useful information, tips and gotchas. If you want to read them, here they are: http://alien.slackbook.org/blog/tag/kde5/
Where to get the new packages for Plasma 5
Package download locations are listed below (you will find the sources in ./source/5/ and packages in /current/5/ and  /14.2/5/ subdirectories). If you are interested in the development of KDE 5 for Slackware, you can peek at my git repository too.
Live ISO of PLASMA5
A Plasma5 Live ISO image will follow shortly on http://bear.alienbase.nl/mirrors/slackware-live/latest/ in case you want to try it out first (check the timestamp of the ISO on the web page). I am currently testing it, looks fine. Here is a screenshot showing the QtAv player (a proper QT5 and QML based video player so that you can forget about kplayer or gmplayer):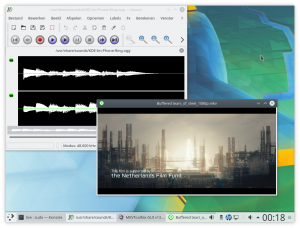 What else is in stock
The PLASMA5 Live ISO is crammed with all my relevant big packages (libreoffice, vlc and friends) and I refreshed a few of these packages:
A package is available for the latest MKVToolnix 13.0.0 – Slackware 14.2 and -current.
 I built the latest Calibre 3.4.0 for Slackware 14.2 and -current, adding several internal modules which I omitted in my first Calibre 3 release. As a consequence, Calibre now also depends on unrar for which I also compiled the latest release (5.5.6) into a Slackware package.
Podofo is another dependency for Calibre that received a long overdue update, and my repository now contains version 0.9.5.
And I am also preparing Live ISO images for the variants SLACKWARE (64bit and 32bit), XFCE (64bit and 32bit) and MATE. They should go online at the same time as the PLASMA5 ISO.
Have fun! Eric