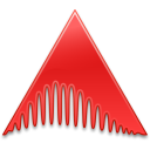 Apart from playing the recorder flute in primary school and keyboard with my father-in-law, I pretty much never had the chance to make music or even, to create new music. That did not bother me in the past, but when I married into a very musical and creative family I realized I was the only one without musical education or skill in playing an instrument. The family has (ir)regular jam sessions and sometimes arranges (mostly private but) quite high-quality classical music performances.
But, I had other hobbies, Slackware being one of them of course, and reading books while listening to my own music collection (which almost has no overlap with my wife's by the way). And I was glad when I saw that my son has inherited my wife's genes and has a knack for languages and music. He is exploring digital music making, has a keyboard or two and installed Ableton Live on his computer. I could never convince him that Slackware was the better alternative to Windows, all his friends are on Windows and what the group does is important for a teen. And furthermore, there's a slew on tutorial and instruction video's out there, all expecting you to use Ableton.
I looked at Ableton for its possibilities, and I had several discussions with one of my colleague/friends who is also a DJ/producer and uses Ableton a his primary driver. Seems to be a real nice program… but it costs hundreds of euros. So purchasing a license for Windows 10 and another one for Ableton, just to be able to converse with my son was not an option. I'll introduce him to my friend and we'll visit his studio to get inspiration. Then he can implement what he learnt, using tools he is familiar with.
During the past two years, I made some purchases just to have fun with creating sounds and rhythms, buying a couple of Pocket Operators from Teenage Engineering. I had one of these PO's in my car, plugged into the car stereo and let my son create loops and sounds while on trips. Lots of fun and not too expensive. I also have an external USB soundcard,a FocusRite Scarlett 2i4. and a MIDI keyboard and bass guitar in the attic. But life's too short and lots of stuff asks for attention – I never spent much productive time with my gear.
But these recent discussions about how to create digital music from scratch, and my wish toe be able to record the live performances of my in-laws, triggered a desire to have a better look at electronic music production and music recording, but then on Slackware Linux of course.
What would be needed for that? I would need software to create sounds (i.e. synthesizers), manipulate audio, create drum tracks, sequence the music, record and mix it. Also my USB sound card needs to be supported and I want my use midi keyboard to enter the notes that I play into the system. I obviously need low-latency real-time performance of my Digital Audio Workstation (DAW).
I guess that for many Linux musicians, the Debian-based AVLinux is a first choice when looking for pre-packaged, pre-configured Digital Audio Workstation (DAW) solutions and supporting software. But we Slackers already have Studioware – a Slackware expansion set which gives you a great toolkit with audio- and video manipulation software. My liveslak project even supports Studioware directly, and is able to create a Studioware Live ISO. You should try that out – it has a ton of software, not just for audio but also for video recording, manipulation and recording.
But… again… and that's just me… I think that there's no fun in using other people's ready-made stuff. Here I am thinking again as the software packaging geek who wants to create possibilities for other people while not necessarily using those myself.
Anyway, I decided not to look too closely at what others had already done, and research a decent set of software products that I want to try out, and on Slackware-current too. Studioware is running on Slackware 14.2 and I tend to develop new stuff on our development platform.
And after a couple of weeks spent on reading, compiling, testing and scratching my head at my lack of knowledge, I came up with this list of software that I think is a nice start for venturing into DAW country. All of this is free and open source:
Update 15-march-2019
Additions to the above set resulting from the discussion in the comments area below the main article:
Update 20-january-2020
Update 27-january-2020
Update 2-february-2020
Update 10-june-2020
Update 28-june-2020
Update 29-june-2020