Phew! Slackware 14 is born, and I think I should use the quiet post-release moments to create some packages specifically for the new version. Most of the packages I have for Slackware 13.37 will of course "just work" on Slackware 14 as well. During the Release Candidate phase, I already built and uploaded several Slackware 14-specific packages for which the "13.37 version" had issues. If you think I missed a package which is important to you, and needs to be built for Slackware 14 ASAP, please leave a message in the comments section below!

Not every package will be built for Slackware 14 from now on. In particular, the package which consumes the most resources and time during compilation – LibreOffice – will be built on Slackware 13.37 as long as the package also works on Slackware 14. The reason for that is: time and availability. If I build LibreOffice for 32-bit and 64-bit Slackware, that takes me two full days (I compile my packages inside QEMU virtual machines which makes the process a bit slower). It makes no sense to also try and compile the same packages for a second Slackware release. I do have a life, you know!
At the end of august, LibreOffice 3.6.1 was released, the first stabilization update in the 3.6 series. I have waited a bit with starting on the 3.6 series, and prefered to offer the latest in the 3.5 series instead a while ago.I feel more confident now with this ".1" release and decided to build some packages for it. The first thing which caught my eye when upgrading and starting libreoffice was the new green splash screen. The "about" box received an update too: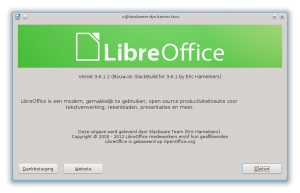 Of course, there have been many more enhancements since 3.5.x. If you are curious, check out this page. A great deal of this new functionality is geared toward making LibreOffice more suited as a contender to the non-free Microsoft Office suite. And because the developers keep improving on the interoperability by working on the import and export filters for the MS Office file formats, it is becoming more attractive for organizations to consider a migration away from the proprietary world of "vendor lock-in". The aforementioned page lists a few cases of such migrations. Well worth considering in these economically challenging times!
Back to Slackware, and the new packages. Again, these new LibreOffice 3.6.1 packages are built on Slackware 13.37 but can be installed on Slackware 14 as well. I did not find any issues on my Slackware 14 desktop yet after I installed it there. You will find the package and source downloads at the usual locations (mirrors will catch up in the next 24 hours):
Be more productive than ever! Eric