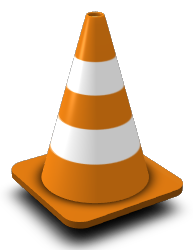 It's that busy time for developers again… are they all preparing for holidays and cleaning the house?
Yesterday saw an update of my favourite multimedia player, and I had missed it…
VLC player is now at stable release 1.1.10 – apart from bugfixes and codec updates, this is also a security update (no known CVE number yet) so everybody is enccouraged to upgrade his installed version.
Get Slackware packages from my repository or one of its mirrors. And remember, if you need to encode mp3 or aac audio (there is no functional difference in decoding audio between all my packages) you need to grab the package which is inside the "restricted_slackbuilds" directory. Patent trolls prevent me from hosting those packages in the US on slackware.com.
MP3/AAC patent restricted:
Enjoy! Eric