Yesterday I uploaded a new DVD-sized ISO for the Plasma5 variant of Slackware Live Edition based on the liveslak scripts version 1.3.3. The ISO contains Slackware-current "Tue Nov 12 23:08:45 UTC 2019" with my KDE-5_19.11 and boots a Linux 4.19.83 kernel.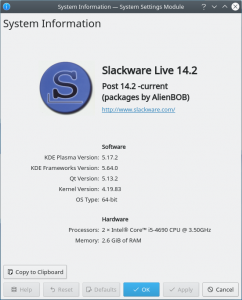 Download this ISO file slackware64-live-plasma5-current.iso preferably via rsync://slackware.nl/mirrors/slackware-live/ because that allows easy resume if you cannot download the file in one go.
Liveslak sources are maintained in git. The 1.3.3 release has some fixes for PXE booting older hardware.
If you want to read about what the Slackware Live Edition can do for you, check out the official landing page for the project, https://alien.slackbook.org/blog/slackware-live-edition/ or any of the articles on this blog that were published later on.
Extensive documentation on how to use and develop Slackware Live Edition (you can achieve a significant level of customization without changing a single line of script code) can be found in the Slackware Documentation Project Wiki.
Have fun!