I have uploaded a set of fresh Slackware Live Edition ISO images. They are based on the liveslak scripts version 1.3.4. The ISOs are variants of Slackware-current "Tue Dec 24 18:54:52 UTC 2019". The PLASMA5 variant comes with my december release of 'ktown' aka  KDE-5_19.12 and boots a Linux 4.5.6 kernel.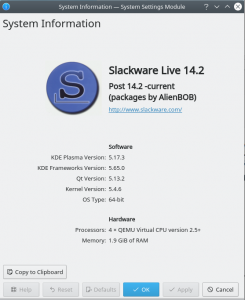 Download these ISO files preferably via rsync://slackware.nl/mirrors/slackware-live/ because that allows easy resume if you cannot download the file in one go.
Liveslak sources are maintained in git. The 1.3.4 release brings some note-worthy changes to the Plasma5 ISO image.
PLease be aware of the following change in the Plasma5 Live Edition. The size of the ISO kept growing with each new release. Partly because KDE's Plasma5 ecosystem keeps expanding, and in part because I kept adding more of my own packages that also grew bigger. I had to reduce the size of that ISO to below what fits on a DVD medium.
I achieved this by removing (almost) all of my non-Plasma5 packages from the ISO.
The packages that used to be part of the ISO (the 'alien' and 'alien restricted' packages such as vlc, libreoffice, qbittorrent, calibre etc) are now separate downloads.
You can find 0060-alien-current-x86_64.sxz and 0060-alienrest-current-x86_64.sxz in the "bonus" section of the slackware-live download area. They should now be used as "addons" to a persistent USB version of Slackware Live Edition.
Refreshing the persistent USB stick with the new Plasma5 ISO
If you – like me – have a persistent USB stick with Slackware Live Edition on it and you refresh that stick with every new ISO using "iso2usb.sh -r <more parameters>", then with the new ISO of this month you'll suddenly be without my add-on packages.
But if you download the two sxz modules I mentioned above, and put them in the directory "/liveslak/addons/" of your USB stick, the modules will be loaded automatically when Slackware Live Edition boots and you'll have access to all my packages again.
What was Slackware Live Edition and liveslak again?
If you want to read about what the Slackware Live Edition can do for you, check out the official landing page for the project, https://alien.slackbook.org/blog/slackware-live-edition/ or any of the articles on this blog that were published later on.
Extensive documentation on how to use and develop Slackware Live Edition (you can achieve a significant level of customization without changing a single line of script code) can be found in the Slackware Documentation Project Wiki.
Have fun!