Almost two weeks ago the Document Foundation released LibreOffice 5.3.3. I silently uploaded Slackware-current packages for libreoffice-5.3.3 last week already and then concerned myself with some work on Plasma 5. And now, I have finally compiled a new LibreOffice for Slackware 14.2 as well, replacing the version 5.2.5 packages that I had in my repository.
So, you who run a stable Slackware release can finally taste LibreOffice's Collaborative editing too. I briefly considered building LO 5.2.7 packages instead (it's the 'stable' branch after all), but decided against that. If you really want to stick to a 5.2 release, just don't upgrade…
Read about the new features in LO 5.3 if you want:  http://www.libreoffice.org/discover/new-features/.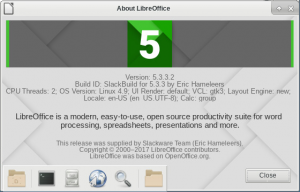 The libreoffice packages for Slackware can be downloaded from a mirror like this one: http://bear.alienbase.nl/mirrors/people/alien/slackbuilds/libreoffice/.
Have fun! Eric