Yesterday, I uploaded the packages for the new KDE Software Compilation 4.12.4 which brings us updates to the Applications and Development Platform. The Plasma Workspaces are following a separate version numbering scheme – the new workspaces package version is 4.11.8.
The Slackware-current tree has not seen exciting updates other than security fixes and because of that, again I have built my packages for KDE  4.12.4, on Slackware 14.1 for maximum compatibility.
The packages work fine on slackware-current too – of course. When that changes, I will stop using Slackware 14.1 as the build platform.
What's new in my KDE 4.12.4 packages?
One of the packages has been renamed. The old "kdnssd" package is now called "zeroconf-ioslave". The README which accompanies my packages has been updated with a "removepkg kdnssd" command.
The kmahjongg package now has the main program script included and you'll find it in the KDE menu. Kmahjongg will not work out of the box, but you only have to add the "python-twisted" and "zope.interface" packages from my regular repository to make it work. I do not include these add-ons in the 'ktown' repository because I do not want to force Patrick's hand if he does not want them to be part of Slackware in future.
I also updated the kdeconnect-kde package with a git development snapshot. In my previous blog article I wrote how this interesting little program interacts with the kdeconnect-android app. Don't forget to add the new "KDE Connect" widget to your system tray if you want to try it out.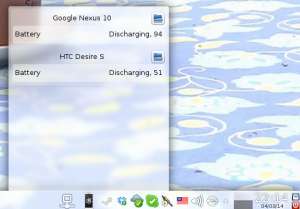 How to upgrade to KDE 4.12.4 ?
You will find all the installation/upgrade instructions that you need in the accompanying README file. That README also contains basic information for KDE recompilation using the provided SlackBuild script.
You are strongly encouraged to read and follow these installation/upgrade instructions!
Where to find packages for KDE 4.12.4 ?
Download locations are listed below (you will find the sources in ./source/4.12.4/ and packages in /current/4.12.4/ subdirectories). Using a mirror is preferred because you get more bandwidth from a mirror and it's friendlier to the owners of the master server!
Have fun! Eric