Sticking nicely to the well-known KDE Release Schedule, here are packages for the latest and greatest KDE Software Compilation.
The new release 4.12.3 is a further step towards stabilizing the 4.12 platform and comes with updates to Plasma Workspaces, which brings that to version 4.11.7. Incidentally I also updated the Plasma Workspaces (aka kde-workplace)  in the KDE package set which I maintain for Slackware 14.1 (the KDE SC 4.11.5 release will keep getting long-term updates to kde-workspace until this summer)
Principally, I am targeting Slackware-current with my bleeding-edge packages for KDE. However – as was the case with the previous KDE release, there is not all that much divergence between the stable release (Slackware 14.1) and the development tree (Slackware-current). That is why I built my packages for KDE  4.12.3, on Slackware 14.1 for maximum compatibility. They work fine on both platforms.
What's new in my KDE 4.12.3 packages?
Apart from all-new versions for the core applications, I also updated the oxygen-gtk2 and plasma-nm (and libnm-qt, libmm-qt) packages. I was unable to compile the latest oxygen-gtk3 release because Slackware's GTK+-3 package is too old.
There is one interesting addition! There is a new package called kdeconnect-kde. Together with the kdeconnect-android app for your smartphone or tablet (no iPhone, surely you don't own one??) it "fuses" your KDE desktop with your mobile device.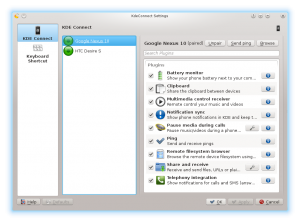 Prominent features of KDE Connect are: battery status display, clipboard share, notifications sync, multimedia remote control, and all of that over secured network connections. Don't forget to add the new "KDE Connect" widget to your system tray.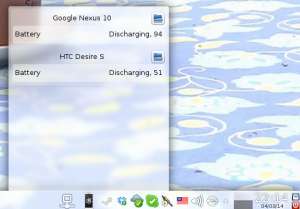 How to upgrade to KDE 4.12.3 ?
You will find all the installation/upgrade instructions that you need in the accompanying README file. That README also contains basic information for KDE recompilation using the provided SlackBuild script.
You are strongly advised to read and follow these installation/upgrade instructions!
Where to find packages for KDE 4.12.3 ?
Download locations are listed below (you will find the sources in ./source/4.12.3/ and packages in /current/4.12.3/ subdirectories). Using a mirror is preferred because you get more bandwidth from a mirror and it's friendlier to the owners of the master server!
Have fun! Eric