Chromium packages refreshed with v58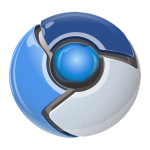 I really like my new job. It is exciting, rewarding, but also demanding, and I find that I have a lot less free time at hand these days than I used to when I was with IBM. Hacking Slackware is becoming a luxury. Simply, because I realized how easily I can lose my job when an administrator puts my name in a spreadsheet… so I work my ass off and try to convince everyone that I am indispensable. Works so far.
The downside is, I have to skip important software releases that require a lot of investigation or compilation time, until there is a free spot in my schedule. The Chromium 57 'stable' release fell victim to that, and even version 58 was released last week  but I never got to sit down and find out why my compilation failed miserably. I finally found the patch I needed and built packages for a new dependency, nodejs (fortunately nodejs is only needed for the compilation, but not for actually running the browser). So, this morning I uploaded my new packages for chromium-58.0.3029.96… only to find out this evening that there's already a newer release out, 58.0.3029.110. I guess I am not going to package that.
Anyway, my packages for chromium, and the chromium widevine CDM plugin, are available for Slackware 14.2 and -current in my repository or one of its mirrors:
Have fun! Eric
Posted: 10 May, 2017 in Slackware, Software.

Comments
Write a comment