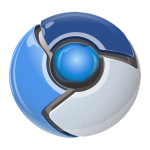 Google updated the stable branch of the Chromium browser to a new major version number: "51". An overview of the changes since the previous "50" release are found in Google's git. Updated packages for Slackware 14.1 and -current are now available from my repository, for the download URLs see below.
The announcement on the Google Chrome Releases blog mentions a list of vulnerabilities that were addressed with this release. Here are the ones that got a CVE rating… it sure pays off to be a security researcher and find Google Chrome vulnerabilities:
As always, it is strongly advised to upgrade to this new version of Chromium. Get my chromium packages in one of the usual locations:
The widevine and pepperflash plugin packagess for chromium can be found in the same repository. The 64bit version of the Widevine plugin was updated with new libraries extracted from the official Google Chrome for Linux; the new Chrome does not contain a newer PepperFlash than what I already have in my repository.
Remember, even though I can still provide a 32bit Chromium browser, Google has ceased providing a 32bit version of their own Chrome browser – which means, no more updates to the 32bit PepperFlash and Widevine plugins.
Have fun! Eric