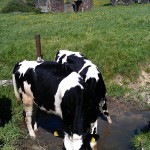 It will be obvious by now, that I work somewhat like a manic-depressive person. Bursts of frenzied activity are followed by periods of silence and withdrawal.
After I had worked like a maniac to release a usable version of my Slackware ARMv7 port (creating a git repository, cleaning up build scripts, uploading packages and setting up a local infrastructure to keep all of those easily updated) I was exhausted and my work output went down a lot. I have a day-time job and I do take that seriously… there was no energy left in the evenings to work as much on Slackware as I wanted.
Luckily, I had a short holiday scheduled and during the previous week, I have enjoyed life from the sunny side again. Spending a week in a holiday home with my family, sleeping long hours and walking through the hilly landscape of South-Limburg was something I needed to re-gain fresh energy.
And this week too has its pleasantries. Today is Ascension Day, which is a national holiday here in NL, and my employer gives us another day off tomorrow. Long weekend ahead! Time enough to enjoy my birthday (today), eating cake and warming up under the sun in my garden.
But last week I still managed to release some packages even though I did not write blog entries about it (you can always follow the RSS feed of my repository ChangeLog). New calibre, owncloud client and steamclient packages, and virtualenv which I needed in order to play a little with the Django web framework.
And I added a new version of the icedtea-web program, the webbrowser plugin for Java (works with my OpenJDK packages, either jdk or jre). This is a security update, here are the CVE entries it fixes and it is recommended that you upgrade:
Furthermore I am using my day off to build the recently released KDE 4.10.3 for Slackware 14.0. This version of KDE landed in slackware-current a few days ago but as a result of my holiday, I was not able to build packages for Slackware 14.0 sooner. Tonight I will write a separate blog post about this when the packages are ready and the repository updated.
Cheers, Eric