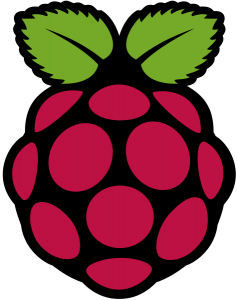 At last…
I ordered a Raspberry Pi on May 11, 2012 and Farnell/Element14 delivered it to my home while I was on vacation. Go figure. The postman did not find us home of course, and rang our neighbors' doorbell. He left the package there, and luckily that neighbor brought me the package the moment he saw our car parked in front of the house.
The little computer came wrapped in a Raspberry Pi T-shirt (with Element14 written all over the front as well) but hey – the T-shirt was free and it served well as wrapping instead of bubble plastic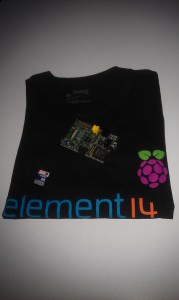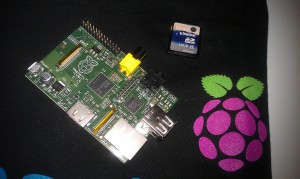 Planning-wise, the Raspberry Pi arrived at an awkward moment. I had not expected delivery until well into august, and intended to pick up my own ARM port of Slackware after my return from France (targeting more recent CPUs than the Raspberry Pi, i.e. an ARM port of Slackware which will be incompatible with the Raspberry Pi). Having the computer in my hands, I could not put it aside, and proceeded with gathering everything needed to make it run Stuart Winter's ARMedSlack.
The work I intended to do when I wrote my original blog post about the Raspberry Pi (back in November 2011) has been done already. Using ARMedslack as the base distro, David Spencer setup a web space where he writes in great detail how to install ARMedslack on the RasPi. He has created a bootable install image – to be copied onto a SD card – and maintains all his packaging and scripting work on Github.
So I bought a SD card – a Raspberry Pi does not have any internal storage – and dd-ed the installer image to the card. Inserted the card into the Raspi, connected a HDMI cable to my television, attached a USB keyboard with built-in TrackPoint mouse, plugged in a LAN ethernet cable and finally used my phone charger (micro USB) to power it up.
First, a fancy display of colours is visible on the television screen, probably the GPU's bootloader showing off, and then a Linux kernel with the image of good old Tux replaced by a Raspberry was booting up. The long and boring process follows… formatting the root partition takes ages (which is actually expected behaviour, considering the hardware) and installing the packages is still ongoing while I am typing this: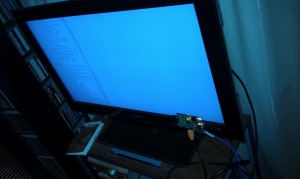 I guess I will have to be patient. In the meantime I can think of good uses for a second device which should be delivered next week. Will it be good for an XBMC based media streamer? Will I put the semi-official Debian image on that one to see how the two distros differ? I have no idea yet. But just holding a 30 euro computer knowing that it will be running Slackware tomorrow brings a smile to my face.
When I have more to tell you, I will write another post. Now it is time to go to sleep, in the hope that the installation has finished by tomorrow morning so that I can bring the Raspberry Pi along when driving to the office.
Cheers, Eric