Just a heads-up to you people who wondered when Alien BOB would pick up on the KDE Plasma bleeding edge again.
Simply put: Patrick did a hell of a job pushing every new KDE Plasma update into the slackware-current package tree (even before the 15.0 release) in no time. There was nothing for me to do (or to improve on) since Plasma5 got added to the distro.
My intention is to change that, soon.
Exactly one month ago, KDE published their planning for Plasma6, the successor to Plasma5, so numbered after the version of the Qt framework which underpins it. As seen on the 'February 2024 MegaRelease' page, the first Alpha release of the Qt6-based Frameworks, Plasma and Gear (the three main components of KDE Plasma) is expected to see the light on November 8th, 2023. The final stable release of KDE Plasma6 will be on February 28th, 2024.
I don't expect that Slackware itself will absorb this new software immediately upon release. Perhaps we will have a Slackware 15.1 next February, maybe not – but a new KDE desktop is a major and potentially disruptive upgrade. Still, it needs solid testing on Slackware -current somehow. Therefore I will have that stable KDE Plasma6 in my ktown repository when it is released.
I am currently working on updating the kde.SlackBuild infrastructure which I took from Slackware-current, to make it work with the new Plasma6 sources. It is not a trivial task; there are new non-KDE dependencies, new KDE programs and changed interdependencies, patches to remove and patches to add.
So far, I have finalized the scripts for all of the new dependencies, as well as the Frameworks and Plasma. Currently working on KDEPIM, and then the Gear collection (formerly called Applications) awaits. The results up to now took me a full week, and the Gear will probably have the same level of unpleasant surprises (hey, it won't compile! what did they sneak in now? <initiates another search through KDE Invent>…).
Meaning, I won't make promises on the timeline for a first Slackware-based test release. I aim to make it coïncide with KDE's own Alpha release, but I may not be able to finish on time. To be clear about my roadmap: anything that I make available before the stable release of Feb 28, will take the shape of a Slackware Live ISO image (the ktown variant, we haven't seen that one for two years almost!) for you to test and play with.
There will be no new packages in the ktown repository until the time when KDE Plasma6 stable gets released. I am supportive of people who want to compile this set themselves, so I will make the sources available in ktown as soon as I release the first live ISO and will keep updating those sources.
Note that I will not make Plasma6 co-installable with Plasma5. It's going to be one or the other. Any official Slackware package that I have to recompile to add Qt6 support, will not lose its Qt5 support. Meaning, my ktown versions of gpgme, kdsoap, phonon, polkit-qt-1, poppler, qca, qcoro or qtkeychain will be 100% compatible with standard Slackware.
Hope to have more news in a week or two!
Sunday update (Oct 29) – a screenshot of the "about" screen after I compiled the new dependencies, Frameworks, Kdepim, Plasma, Plasma-extra and Gear (excluding some twenty packages which are not yet compatible with Qt6):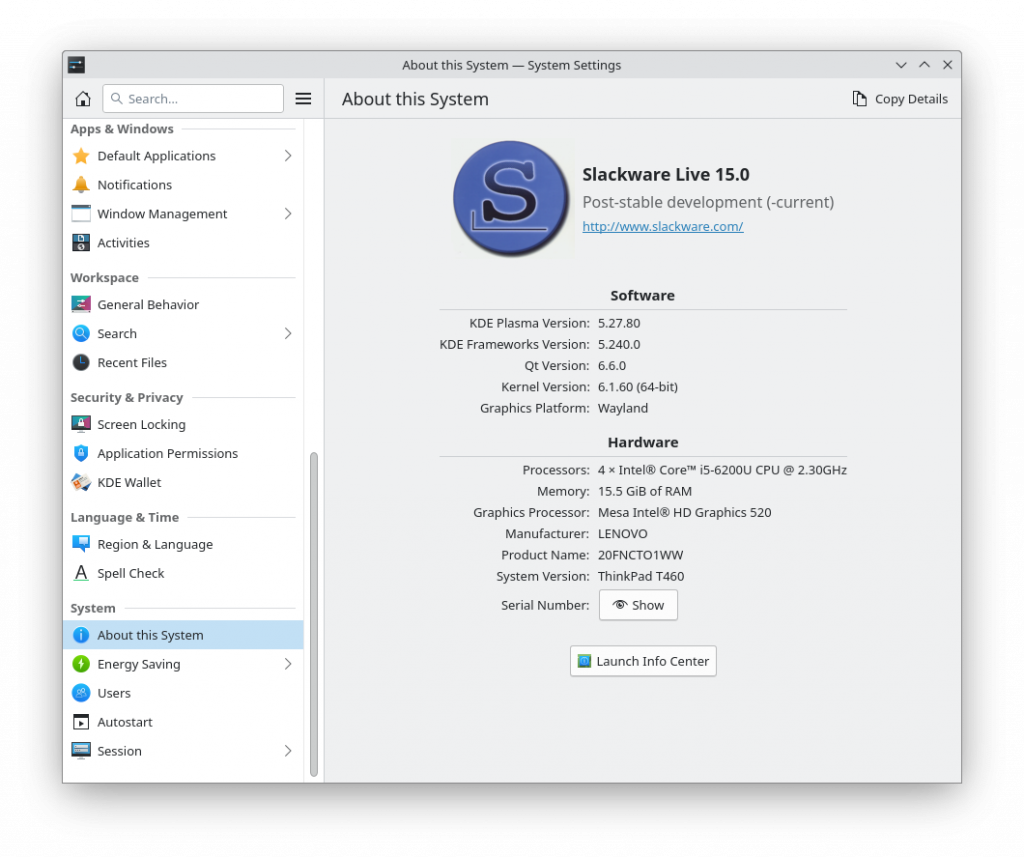 Eric