Yesterday  I uploaded new ISO images for Slackware Live Edition, release "0.6.0". Then I waited a bit before writing this article to allow the mirrors to catch up with the 8 GB of new files.
Check out my previous articles about Slackware Live Edition for more background information and read the README.txt file provided with the "liveslak" sources to get a grasp on a more technical level of how this all works.
What's new in 0.6.0?
Still working towards a stable 1.0 release, I think I am mostly there feature-wise and I would like to see bug reports so that I can be sure that a future stable release is going to be enjoyed by everyone – seasoned or aspiring Slackware user alike. If I am not at version 1.0 by the time Slackware 14.2 is released, that event will trigger a Live Edition v1.0 for sure! But we'll get there before Pat 🙂
The persistent USB variant of Slackware Live is what most people are probably going to use. But the ISO on DVD or a read-only stick is just as awesome, because that variant will be particularly interesting for people who are demo-ing Slackware (because they are new to Slackware or because they want to see how slackware-current performs). For this new beta, I have focused on fixing all the small bugs I ran into, but here are some of the highlights in terms of new functionality:
You can now use an encrypted container file to store persistent data. The "iso2usb.sh" script was extended with a new "-C" parameter that allows you to specify a size for this LUKS container file, quite similar to what you already could do for a LUKS encrypted homedirectory. The data on your persistent USB Live will be safe from people who steal the stick from you.
A hard disk installer was added to all Live variants except the minimal XFCE. As far as I am concerned, the XFCE version is nice to run as a small Live OS but unsuited for hard disk installation. This works straight from the DVD, and also in USB versions.
You will be able to install the latest Slackware64-current, or the Plasma5 or Mate version to your computer's hard drive, in the background while you are working/playing in your Live Desktop.
From within the Live environment (either at the console or in an X terminal in your running Desktop Environment) you can call "setup2hd" which will guide you. The script is a modified Slackware setup as known from the official install media, but it has already made the choice of package SOURCE for you. Note that you are responsible for partitioning your hard drive before you call "setup2hd". This aspect is no different from the regular Slackware installer.
The "setup2hd" script will install all the active Live modules to your hard drive (this encompasses all "system" modules, and furthermore including modules in addons/" and "optional/" which you enabled).
Documentation was added. A README.txt file contains all the details of using the Live Edition, as well as technical background on how the liveslak scripts do their work.
Customizing the Live Edition has been made easier. You are no longer tied to the choice of "SLACKWARE", "PLASMA5", "KDE4", "XFCE", "MATE" or "CINNAMON" when generating a new ISO variant. A "custom" variant with its own custom name and custom post-install configuration is now also possible.
Download the ISO images
I have created ISO images for the SLACKWARE, XFCE, PLASMA5 and MATE flavours using the latest Slackware64-current packages available (Tue Feb 23 19:31:59 UTC 2016) as well as latest Plasma 5 and Mate releases.
You can find the ISO images plus their MD5 checksum and GPG signature at any of the following locations – look in the "0.6.0" subdirectory for ISOs based on the liveslak-0.6.0 scripts. I made a symlink called "latest" which will always point to the latest set of ISO images:
These mirror servers should have synchronized by now.
The ISOs have two user accounts: root (with password 'root') and live (with password 'live'). My advice: login as user live and use "su" or "sudo" to get root access (note: "su" and "sudo" will want the live password!).
The ISOs are able to boot both on BIOS-based computers (where syslinux takes care of the boot menu) and UEFI systems (where grub builds the boot menu, which looks quite similar to the syslinux menu):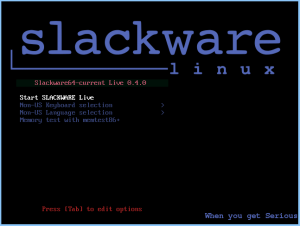 Have fun! Eric